In the second quarter of this year, the total amount invested in the crypto industry will tell a clear story. But a closer look at the numbers reveals something else.
The $14.67 billion invested in Q2 2022 is roughly the same as the $14.66 billion invested in Q1 on a macro level. However, the largest portion of that investment was made in April, before the recent global market slump.
The Consumer Price Index (CPI), a measure of inflation in the United States, was at an all-time high of 8.2%, the highest in decades, according to the Federal Reserve. In the second quarter, the Federal Reserve raised the benchmark interest rate in a stepwise manner, reaching a maximum of 75 basis points.
Funds like Andreessen Horowitz (a16z) shut down their $4.5 billion crypto fund, and investment continues to flow into various sectors of the crypto industry.
Q2 2022 Blockchain and Cryptocurrency Insights
Capital Investments of over $14.6 billion have been made by 621 Individual Investors
Slowing growth since April has indicated a possible trend of slowing growth until macroeconomic conditions change
Since the first quarter, individual deal activity has increased by 19.9 percent, although the pace has slowed since April. There was also a 16.5 percent drop in the average deal value, which indicates that venture capitalists are still willing to invest in projects, albeit with smaller sums.
Q2 was dominated by Web3 in nearly every metric. There was a lot of activity in Seed rounds as usual, with $2.18 billion in total capital inflows. In the later stages of investment and expansion, the Web3 sector also had slightly more individual deals than DeFi and CeFi.
There was a surprising lack of interest in CeFi as a sector from investors, with the exception of Coinbase, FTX, and Binance. Investment activity increased significantly during Q2 and could be a sign of things to come.
In the second quarter, the top ten most active VCs shifted their attention from DeFi and NFTs to Web3.
In Web3, seven of the top ten most active investors allocated the most capital.
The percentage of their total investment activity that was allocated to these seven investors in the second quarter ranged from 43% to 75%.
In 2021 and the first quarter of 2022, the top 10 most active VCs accounted for 66% of all individual deals.
In the second quarter, this percentage dropped to just over 42%, while the total number of deals increased to 621, 100 more than in the previous quarter.
Web3 dominated VC interest in Q2 with 43% of all individual deals. In contrast to the previous five quarters, only 16 percent of capital inflows went to DeFi.
There were five acquisitions involving GameFi, marketing, and education for Animoca. Animoca Brands entered 43 deals in Q2, 72 percent of which were focused on Web3.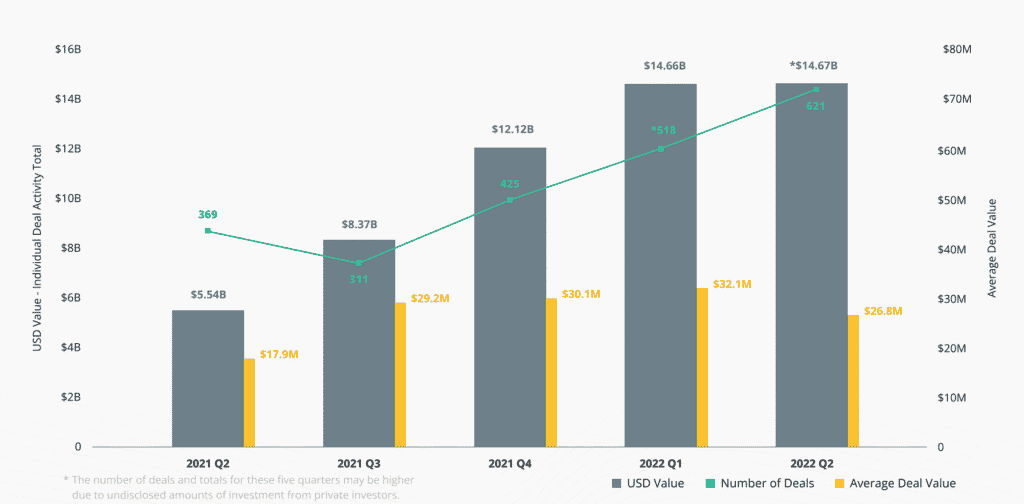 CeFi's Series A and Expansion Rounds Show Surprising Trends, While Web3's Q2 2022 Shows Signs Of Heating Up.
In the second quarter of this year, blockchain startups from a wide range of industries saw the most activity. 155 startups in the Web3 sector received funding during the startup rounds, however, continuing the trend toward Web3. While only 60 people work in DeFi, and 53 in NFT, this is a significant increase.
In Q2 2022, Web3 outperforms every other industry due to a shift in VC investment from DeFi and NFTs.
For investors, DeFi was still the most popular sector in Q1 with Web3 a close second. Top 10 most active investors in Q2 favored Web3 as the most popular sector for investment.
Over half of all deals were invested in by the top 10 most active investors in Q1, but this number dropped to just over a third in Q2. Due to the recent macroeconomic downturn in both traditional and crypto markets, VCs may be taking a more measured approach to investing.
Even so, the total number of individual deals closed in the second quarter was up nearly 19.9 percent from the previous quarter, indicating that there are more sharks in the pond due to their larger size and increased activity.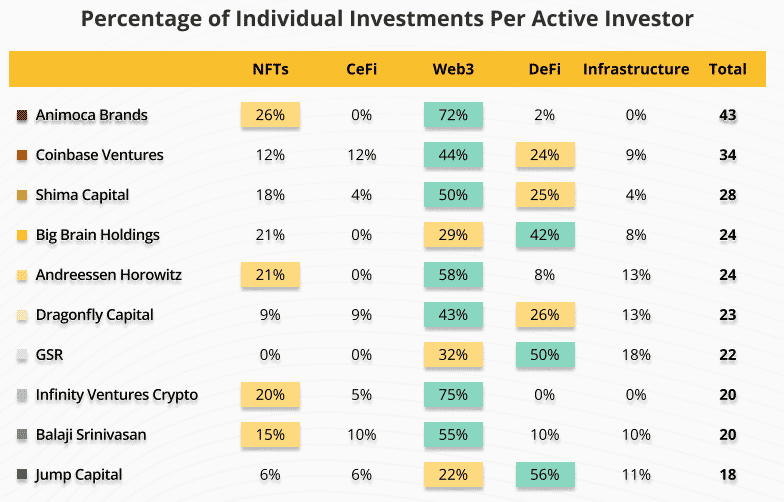 More deals were done by Animoca Brands this quarter, with 42 total deals. Last quarter, the company invested equally in NFTs and Web3; this quarter, the firm favored Web3.
Investment will shift from DeFi to Web3 at the end of 2021 as the current trend continues. Investment in infrastructure has increased slightly, but CeFi has remained the least-invested sector.
Metaverse: Epic Games Leads Q2 2022 Deals
FTX's Sam BankmanFried, or "SBF," purchased 7.6 percent of Robinhood's stock for more than $600 million.
Even though FTX was not a party to the deal, SBF has publicly discussed how M&A activity picks up speed during challenging market conditions. Anything beyond this is speculative, but if the recent actions of SBF and FTX are any indication, the acquisitions and expansion of interests may be the fastest route to increased market share and diversification.
A Token Subscription Facility (TSF) model was used by Lithosphere to sell $400 million in LITHO tokens to Global Emerging Markets at a steady rate. AI and embedded Deep Neural Networks are used to enhance the smart contract capabilities of Lithosphere, which is a next-generation protocol with cross-chain applications.
FTX Ventures, Dragonfly Capital, MetaWeb Ventures, ParaFi Capital, Blockchange Ventures, Hashed, and Republic Capital were among the investors in Near Protocol's $350 million funding round, which was led by Tiger Global. As of the end of 2021, Near has seen an increase in VC interest, and this latest round of funding will aid in further decentralizing the protocol around the world.
As part of a $2 billion round of funding, Sony and Kirkbi (the company behind the LEGO Group) joined forces with Epic Games. Sports and other virtual initiatives with an eye toward the future will be the focus of this effort, which will draw on the strengths of the various companies involved in order to broaden their reach in the metaverse in ways that benefit the current generation of children.
BlackRock, Fidelity, Marshall Wace, and Fin Capital participated in the most recent round of funding for Circle. A SPAC will be used to list Circle, which has a market cap of approximately $9 billion. Circle's products, which may include capital market applications in the future, will benefit from the infusion of these funds.
Web3 Sector is dominating Investment Interest in 2022
In Q2 2022, the Web3 sector accounted for 42% of all deals. Projects that have recently received funding or are in the process of applying for funding include:
Planetary DAO – Future of the internet.
Arianne: Digital passport platform
There were 16 deals in the DeFi sector closed in Q2 2022. Funding for the following projects has recently been announced or they are currently undergoing funding rounds:
SingularityDAO – DeFi protocol for maximizing alpha generation
Unizen – First exchange for Digital Assets
Fantrade – Play2Earn Platform
In Q2 2022, NFTs accounted for just 13% of the total number of deals in the industry. Projects that have recently received funding or are in the process of applying for funding include these intriguing ideas:
Nyan Heroes – 3rd party Shooter built on Solana
Labelcoin – Robinhood for music
References: Cointelegraph
Who are the biggest crypto VCs?
Three Arrows Capital
Coinbase Ventures
Binance Labs
Three Arrows Capital (a16z)
Jump Crypto
Paradigm
What are VC coins in crypto?
Rather than conducting public ICOs, "VC coins" entail crypto projects with tokens that raise funds from private investors.