A curated list of awesome GitHub repos.
1. Rustdesk
Remote desktop software, written in Rust. Works out of the box, no configuration required, full control of your data, with no concerns about security.
Great alternative for TeamViewer or Anydesk.
-> GitHub Link
2. Playwright
Framework for Web Testing and Automation. It allows testing Chrome, Firefox and WebKit with a single API.
Built to enable cross-browser web automation, reliable and fast.
It has its own test runner for end-to-end tests.
-> GitHub Link
3. Supabase
Open Source Firebase alternative.
Multiple features: Auto-generated APIs, GraphQL support, Database and Edge functions, Files storage and more.
-> GitHub Link
4. PyScript
Pythonic alternative to Scratch, JSFiddle and other programming frameworks, with the goal of making the web more friendly.
PyScript is a project aimed to combine multiple technologies into a framework that allows developers to create sophisticated browser applications with Python.
-> GitHub Link
5. Appsmith
Powerful low code Open Source framework used to build internal tools.
You can turn any datasource into an internal app in minutes. It has a drag-and-drop UI for building pages, connect to APIs, databases or GraphQL sources.
-> GitHub Link
6. Postal
Fully featured open source mail delivery platform for incoming and outgoing email.
Great alternative to Sendgrid, Mailgun or similar.
Multiple organizations support, graphs and stats, webhooks, historical messages, logging and more.
-> GitHub Link
7. Transformers
State-of-the-art Machine Learning for Pytorch, TensorFlow and JAX.
Transforms provides thousands of pretrained models for performing tasks on different modalities such as text, vision and audio.
-> GitHub Link
8. DeFi Developer Roadmap
A curated list of best tools for DApps, development resources and lifehacks.
-> GitHub Link
9. Change Detection
Self-hosted Open Source website change detection service.
An alternative to Visualping, Watchtower etc.
It provides automatic updates and backups, it has chrome driver support and more.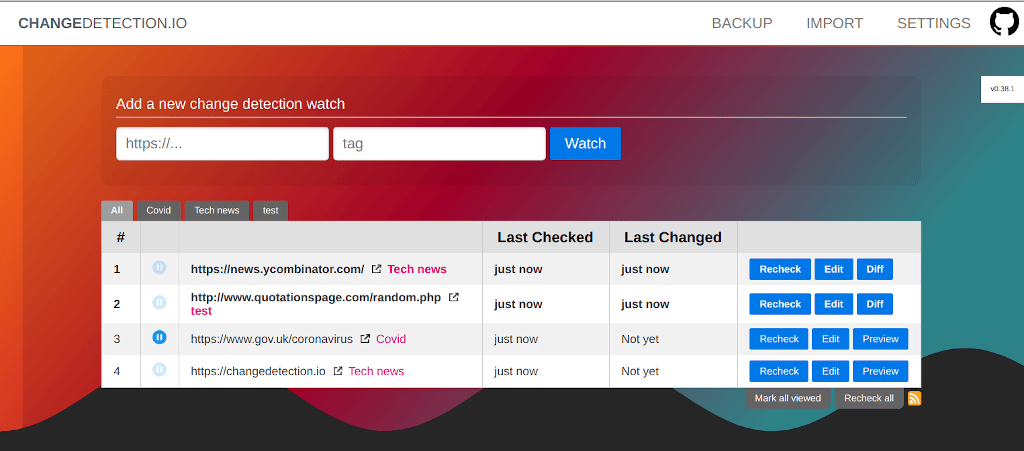 -> Github Link
10. Awesome OSS Alternatives
An awesome list of Open Source alternatives to well-known SaaS products.
-> GitHub Link