The tech industry has undergone a radical transformation in the past two years. Remote working has gone from being a nice-to-have to almost being a necessity.
Cross-border hiring and working as well as moving to a different country are no longer unusual occurrences, but rather well-documented patterns. The global shortage of tech talent is now at an all-time high, affecting both local and global markets.
The 2022 Tech Salary Report aims to answer many of these questions for tech professionals and businesses.
One of the most important findings is that salary is the most important factor in determining a tech professional's success. Remote work and the globalization of tech work are also having a significant impact on salaries right now.
It is now easier than ever for underdeveloped regions to attract and retain high-quality tech talent by allowing them to work remotely for companies located in wealthier regions. Companies that value hybrid or office work are more likely to relocate their top tech talent as a result, which has a snowball effect on salary levels around the world.
2022 Tech Salaries Statistics attempts to provide useful insights on global tech salaries and the market trends in this area. IT professionals can use it to make better career choices, and businesses can use it to attract and keep top-notch tech workers in-house.
A few tidbits of wisdom to whet your appetite: In the last period 51.2% of women received a raise, compared to 62.6% of men, while African, Asian, and South American tech professionals working remotely across borders earn around 1.7x more than those working for local companies (1.3x more in Europe).
2022 Tech Salaries Highlights
Annual wages range from 20.071€ (Africa) to 84.224€ (US)
Developers are earning 1.4% less than tech managers
Professionals with six or more years of experience earn 2.5x more than those with three years or less
Perl and Visual Basic 6 are the worst-paying programming languages
Cake PHP experience pays the worst, while Ruby on Rails pays the most (1.6x more than Cake PHP)
60% of tech professionals saw their salaries rise in the last year, 7.5% saw their salaries decrease
51.2% of women and 62.6% of men received a raise
Working remotely pays about 1.7x as much for Africans, Asians, and South Americans as it does for locals (1.3x more in Europe)
Managers in Europe earn an average salary of 59.844 euros, while developers in Europe earn an average salary of 44.814 euros.
Tech Salary by Continent of Residence
Salary for North American tech professionals ranks highest, with Europe in second place, and the rest of the world is a long way behind.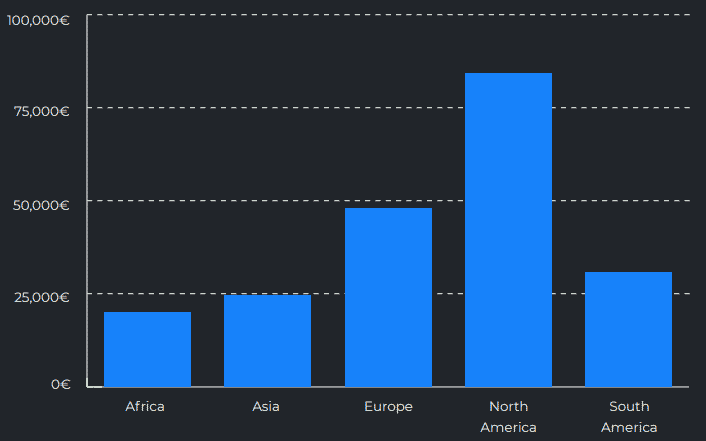 Tech Salary by Professional Role Category
In most cases, management positions pay better than development positions. Between the two categories, the gaps are the smallest in Asia and Europe, with Africa having the largest gap.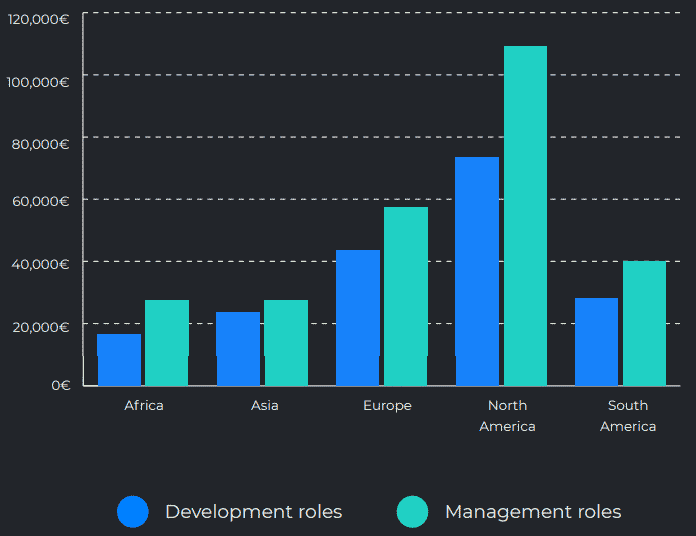 Tech Salary by Professional Experience
The more experience you have, the higher your salary will be. Asia and Africa have the widest wage gaps between entry-level workers and those with more experience.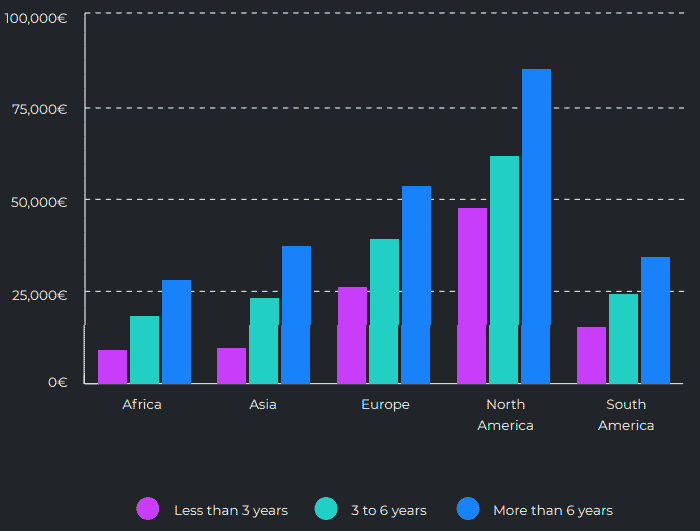 Compared to Development roles, Management roles have a higher salary disparity between less and more experienced employees.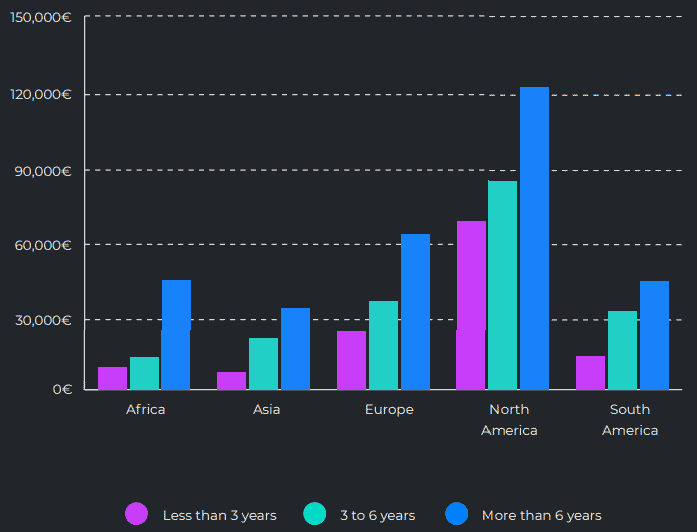 Tech Salary by Employment Status
Contractors tend to earn more money than full-time employees. Compared to full-time employees, contractors in Africa and Europe earn about 45% more, in Asia 30%, and those in South America 6% more.
Tech Salaries by Gender
Women in North America and Asia earn more than men. Is this is a one-time event or the beginning of a trend? However, this pattern cannot be found elsewhere, and Europe has the largest gender pay gap, with a difference between men and women of over €12,000.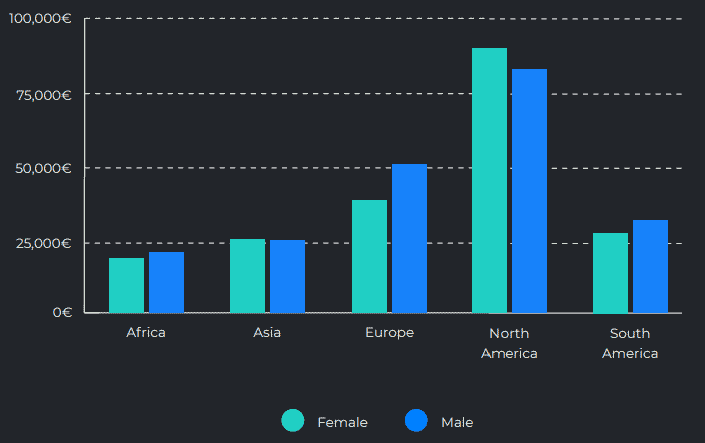 Tech Salary by Remote Work Status
It's possible that less competitive companies may be less inclined to allow their employees to work remotely, resulting in a loss of attractiveness to top tech talent and a further decrease in their competitiveness. It's just a hunch, but it's an interesting one. Intriguingly, only the North American region pays more for hybrid remote than for full remote.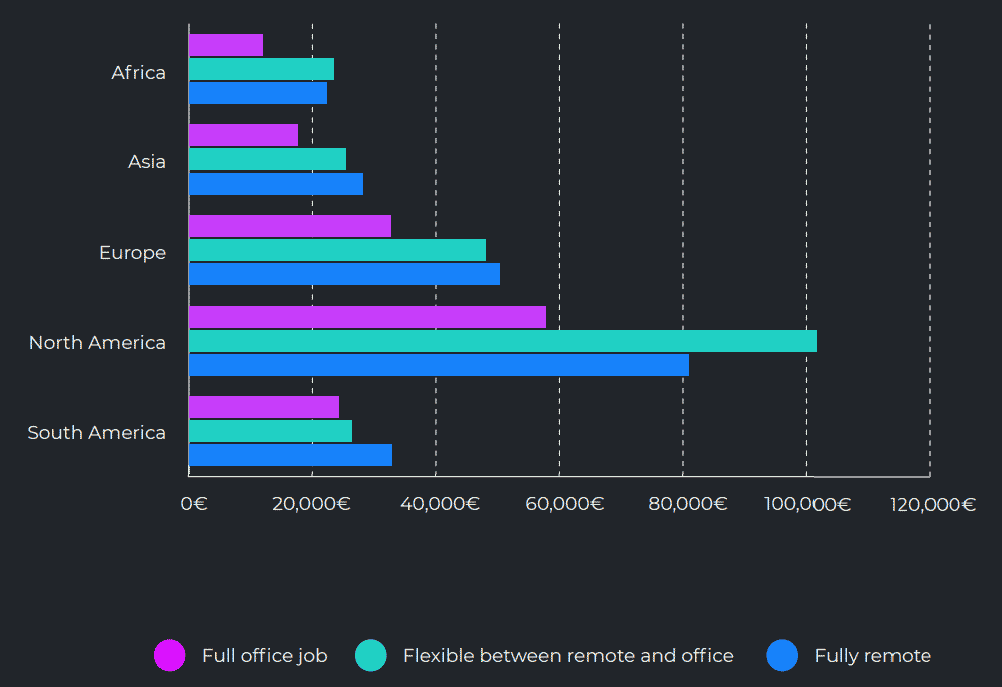 Tech Salary by Relocation and Continent of Residence
Tech professionals in North America who want to make a lot of money either stay in their home country or move to another continent.
Since wages in Africa aren't competitive, it's obvious that the best way to maximize earnings is to look for work elsewhere.
Moving to a new country within the same continent is the best option for tech professionals from South America, Europe, and Asia.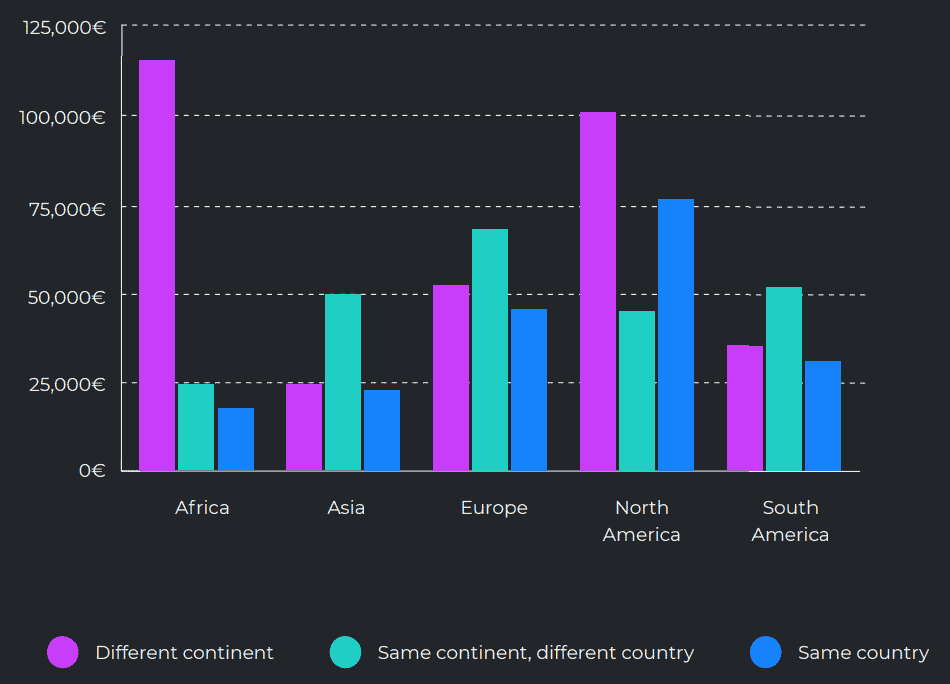 Tech Salary by Job Role and Continent of Residence
The highest-paid CTOs are those in Europe, followed by those in South America. However, when it comes to executive compensation, Europe emerges victorious, followed closely by South America. It appears that technical team leaders in Africa are paid similarly.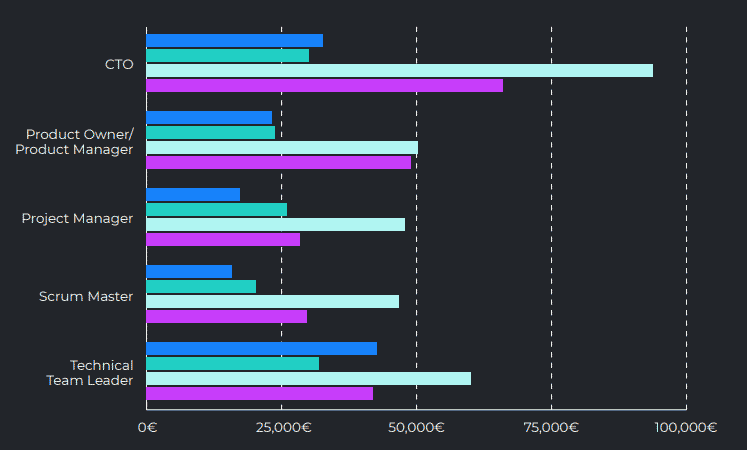 Europe pays better in all development roles, with Solutions Architects topping the chart. Maintenance & Support professionals from Asia are the less favored here. The biggest pay gap between Europe versus the rest seems to be in
Business Applications.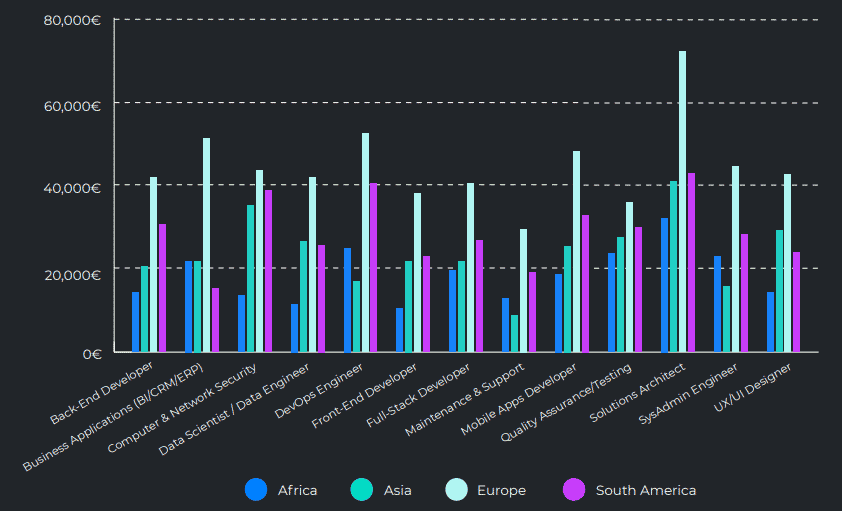 Tech Salary by Programming Language
Perl, Lua, Elixir, and other lesser-known languages are paid more. If you decide to invest in one of these, make sure you're up to the task because there aren't many jobs out there. Python is the most widely used programming language, followed by Java and Typescript. If you want a good salary, avoid PHP, Visual Basic, and VB.NET.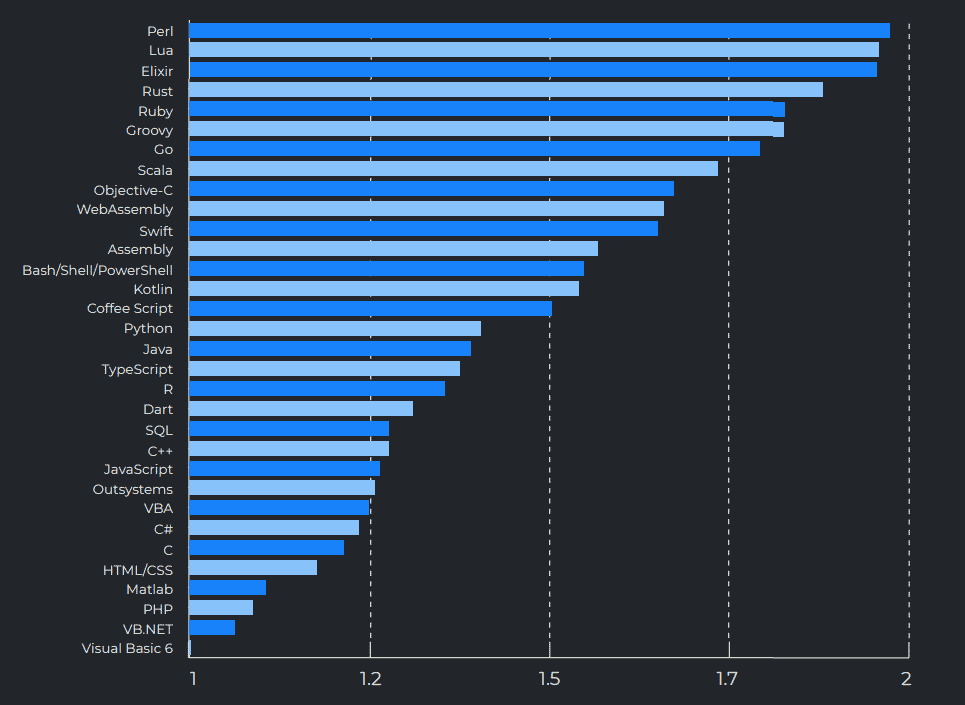 The lowest-paid language has an index value of 1, while the highest-paid has an index value of 10. Due to regional differences, this method is preferred over using average salary values.
Tech Salary by Most Used Programming Languages
As a result of their widespread use, most of the top five most popular programming languages have a low average salary variation.
C#, which is used primarily in corporate environments, and appears to have lower salaries than other languages. Both the number of Python professionals and the average salary appear to be increasing in Europe.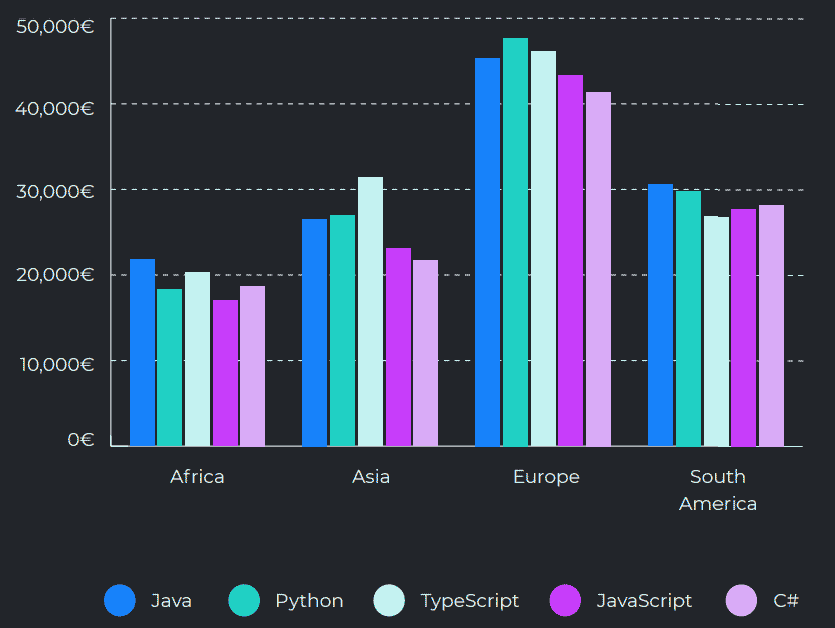 Tech Salary by Programming Framework
Ruby on Rails hasn't had the dominance it seemed to have a few years ago, but it still leads in salary. The higher the average salary, the lower the adoption of programming languages.
The top three contenders are Ruby on Rails, Meteor, and Ember. As expected, the most commonly used frameworks are found in the middle of the list. We have Bootstrap, Laravel, and CakePHP at the lower end of the scale.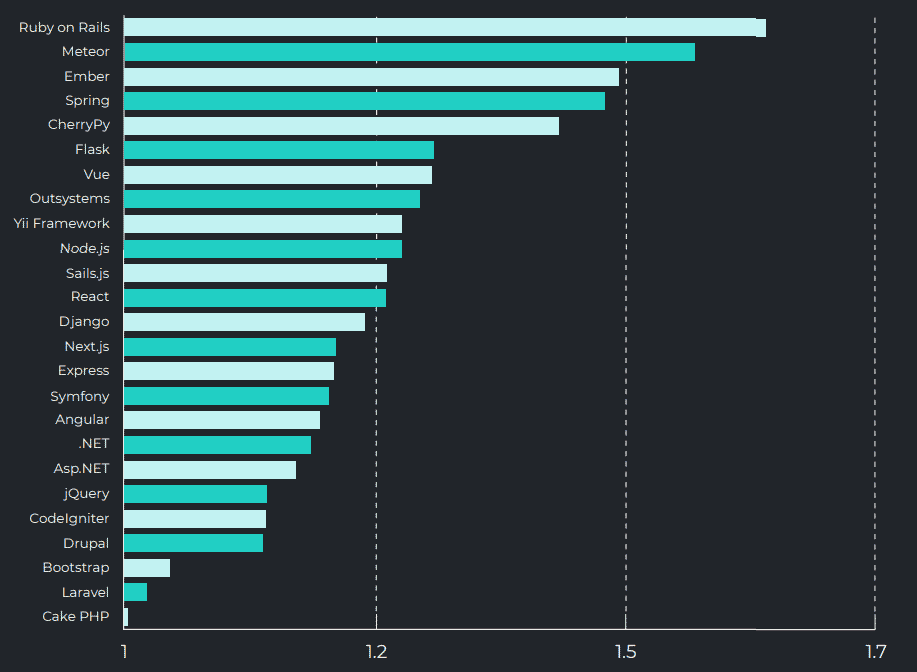 Tech Salary by Most Used Programming Frameworks
Each region has a similar average salary for the most commonly used frameworks. As in programming languages, massification appears to be a strong influence here. Currently, Node.js appears to be in the lead, but it is only by a slim margin.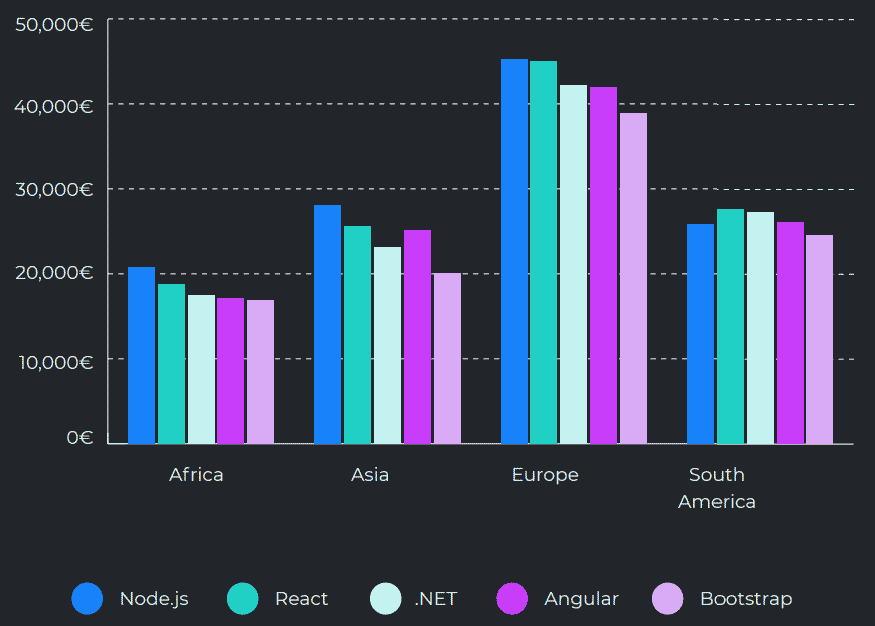 Tech Salary by Job Role (Multiplier Factor)
Consider a career in Solutions Architect, DevOps, or Computer and Network Security to keep your development skills sharp. Mobile developers continue to do very well financially, despite the fact that the overall market is not growing as rapidly as it was a few years ago.
It may seem odd, given the amount of effort put into development, but Backend Developers and Full-stack Developers dominate the "regular development" roles, with Frontend Developers taking a backseat by a large margin.
When it comes to roles like Scrum Master and Project Manager there seems to be a lack of demand for those who combine a technical and management background, like Technical Team Leaders. Customer Support is a role at the lower end of the spectrum.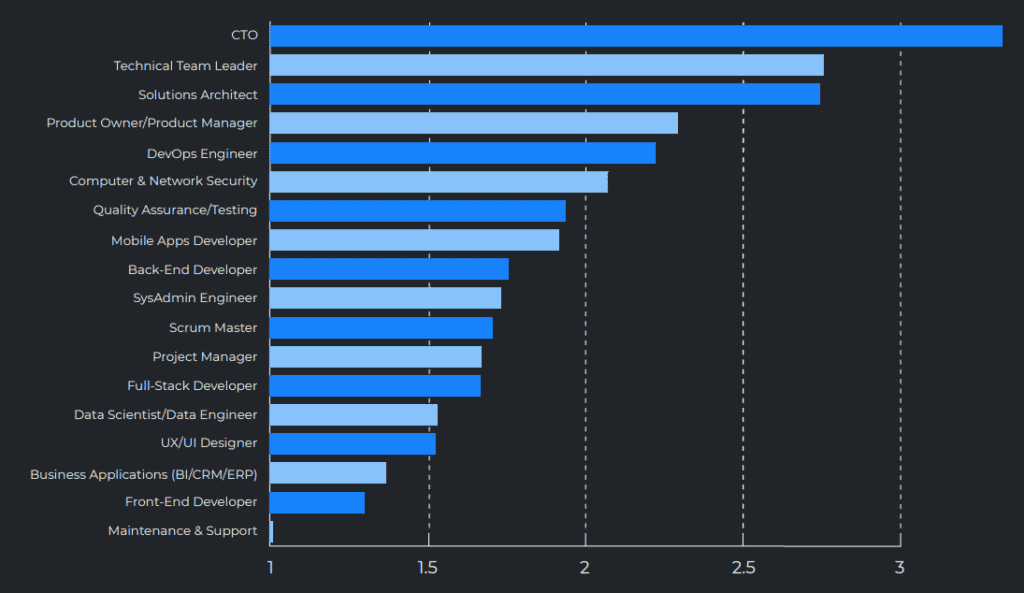 Tech Salary in Africa by Job Role and Working Experience
African average salaries reveal a labor market with wide inconsistencies. In my opinion, the best options are DevOps, SysAdmin, and Solutions Architect. In some job categories, like Computer and Network Security, Africa ranks lower than the rest of the world, while Front-end Developer ranks higher.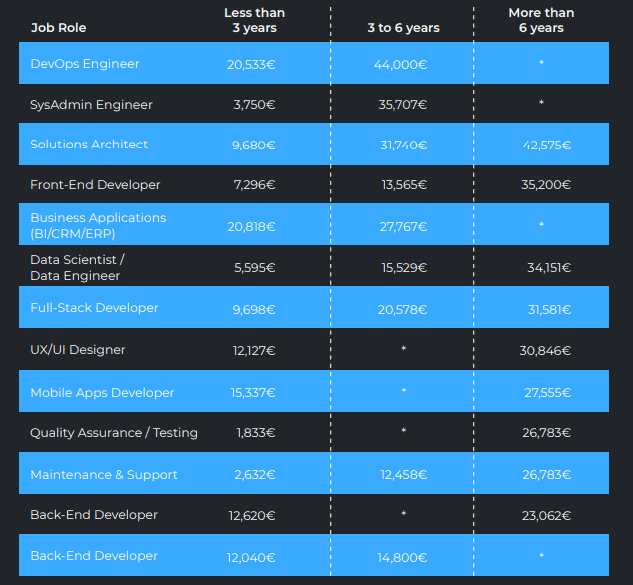 Project Managers' salaries are lower than those of many other Development roles, indicating a lack of market demand. Tech Team Leaders, as the name implies, lead. On this market, it appears that combining technical expertise with team management is a winning formula.

Tech Salary in Asia by Job Role and Working Experience
In Asia, it appears that seasoned UX/UI professionals are well compensated. SysAdmin and DevOps are far less valued than they are on average around the world, but security and mobile are at the top of the list. Traditionally, Maintenance & Support has been a last-place finisher.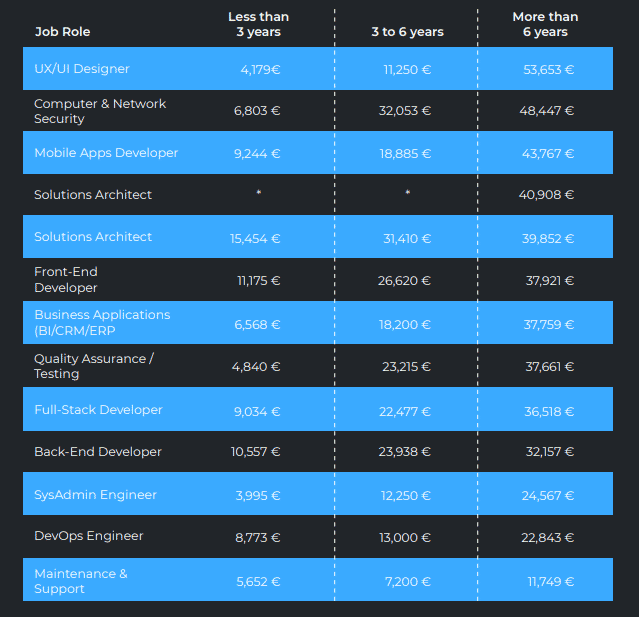 CTOs earn the most, as might be expected, but in Asia, Tech Team Leaders are well compensated as well. In comparison to other regions, Asia has a higher concentration of Project Managers.

Tech Salary in South America by Job Role and Working Experience
There is a clear winner in the South American tech market: DevOps, followed closely by Solutions Arhitect, and Quality Assurance Engineer. The low status of Business Applications roles in this market, even below those of Maintenance and Support, is something worth noting.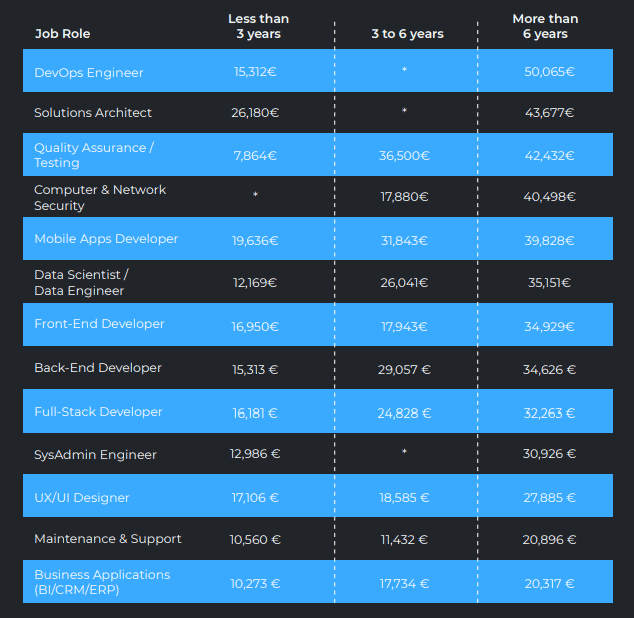 As expected, CTOs take the top spot, followed by tech team leaders, project managers, and scrum masters.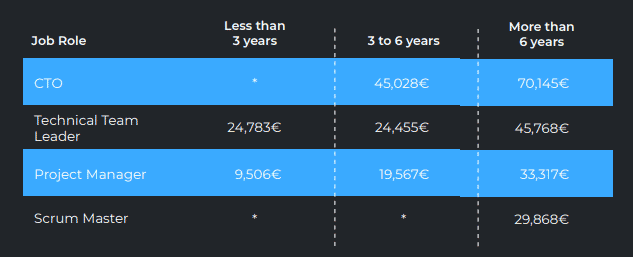 Tech Salary in Europe by Job Role and Working Experience
One thing is for certain: European Solution Architects are a unique breed. DevOps is on the rise, and it's interesting to see that Business Applications and Mobile Developers are the top two specialties in this region. In terms of salary, the Maintenance & Support position is amongst the lowest paid ones.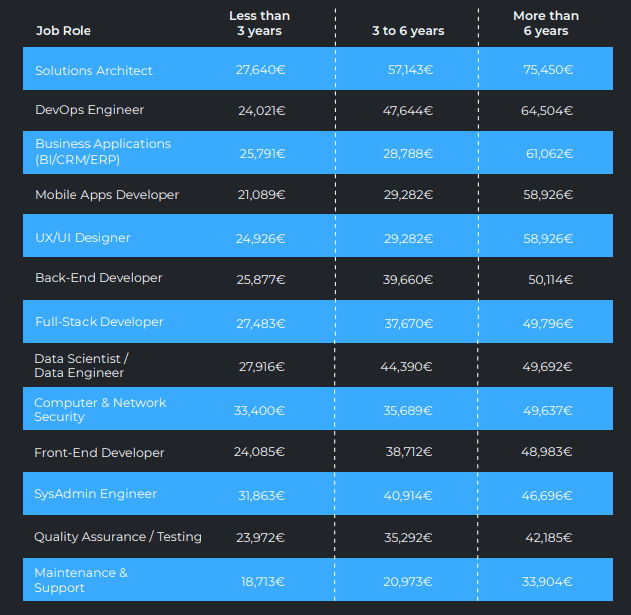 The pay gap between mid-level and senior CTOs in Europe is enormous. Climbing all the way to the top is a wise decision. Leaders of technical teams are also highly sought after.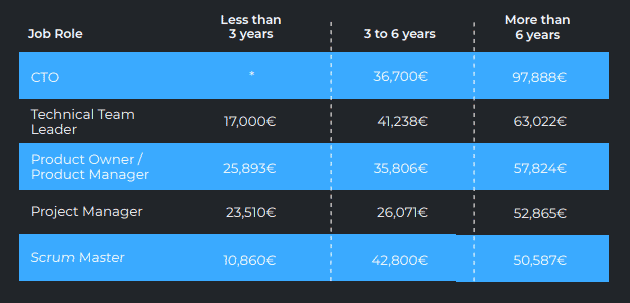 Source: Landing.Jobs